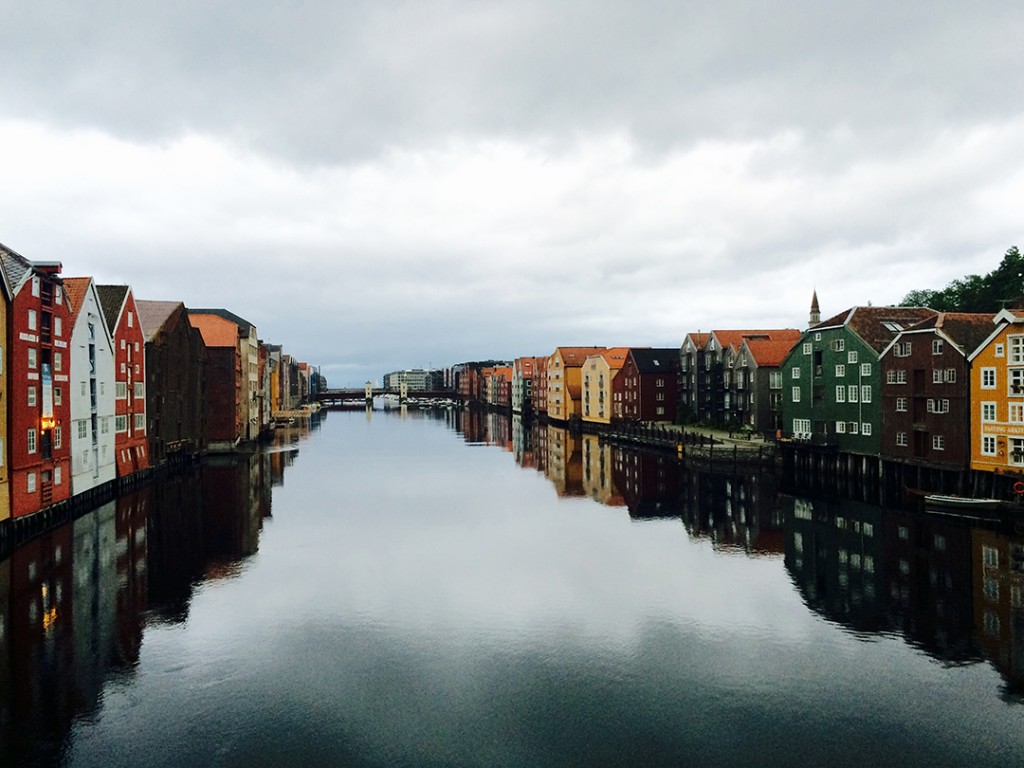 Trondheim met mooi weer is echt fantastisch. We liepen naar beneden vanuit het hotel, namen de foto's die alle toeristen nemen van de gekleurde huizen langs het water en de oude brug, en liepen toen naar de kathedraal. Prachtige kerk, boeiende geschiedenis. Meer weten, googelen: https://nl.wikipedia.org/wiki/Trondheim
We bezichtigden de kerk – boeiend vooral ook vanwege de historische betekenis van de kerk voor de stad. Daarna was het tijd voor een kopje koffie met in het restaurant naast de kerk om daarna te luisteren naar het orgelconcert dat mooi samenviel met ons bezoek.
Trondheim is weer eens een echte stad, met grote stadsallures, meer dan de andere plaatsen die we de laatste weken bezocht hebben.
In het oude insdustriegebied bij de haven zijn een aantal waarschijnlijk 19e eeuwse industriele gebouwen. De resten staan er nog, en er heeft zich een beetje een alternatief buurtje ontwikkeld, met cafe's, restaurantjes, winkeltjes. Na daar wat gegeten en gedronken te hebben vervolgden we onze stadswandeling om te eindigen bij een, typisch Noors toch, tapasbar waar je voor Noorse begrippen betaalbaar kon eten. We zaten daar recht tegenover de steilste straat van Trondheim. Om de fietsrs die naar boven willen een voetje te helpen is daar een 'fietslift' (sykkelheis); zie youtube: https://www.youtube.com/watch?v=7j1PgmMbug8
Trondheim, even een dagje stoppen dus als je in de buurt bent.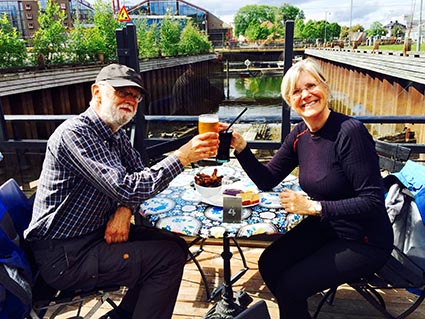 Het 'hotel' waar we overnachtten is ook de moeite waard. Singsaker Sommer Hotell. Het hotel is dit jaar open van 11 juni tot 15 augustus. Het is een studentenhostel en wordt in de zomer gebruikt als hotel; voor de studenten ook een voordeel omdat ze dan in die maanden geen huur hoeven te betalen. Leuke plek, eenvoudig maar gezellig, heel gastvrij.
—-
Trondheim, we decided to spend an extra day to see the town. We were not disappointed. Trondheim is well worth a visit. The first thing we did ws take the pictures tourists are supposed to take: the coloured houses along the river and the old bridge.
Then we visited the cathedral. An interesting part of the town is the old industrial area where there are now cafés, restaurants, shops in this very special setting.
We had supper in a tapas bar – typical Norwegian of course. Across the street from the bar yu looked p the steepest street in Tondheim where they installed a cycle lift to help cyclists climb the steep hill.
See: https://www.youtube.com/watch?v=7j1PgmMbug8
If you like riding a bicycle, why not go and check it out?
The hotel where we spent these twonights turned out to be a special place. The Singsaker Holiday Hotell is a stunt hostel. Durin the summer months when the students aren't there it doubles as a hotel. Of curse the students have to vacate their rooms and move most of their stuff out, but the advantage is that they do not have to pay rent during the summer months.